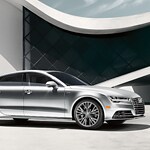 Decadently evolved automotive technology is prominently displayed by the astonishingly sleek Audi A7. This critically acclaimed plus-size luxury car is intelligently equipped with countless electronic perks to keep you thoroughly engaged with your driving experience in Livermore, CA.
To start, the attractively streamlined 7" color driver information system presents comprehensive vehicular knowledge within a swiftly accessible presentation. This fluid interface offers real-time notifications to keep you engaged and aware at every junction. As a bonus, the chic installation supplies a phenomenally futuristic edge that is bound to captivate passengers.
Furthermore, thanks to the efficient incorporation of HomeLink, this ride has the ability to serve a dual function as your garage door opener. This impressive little convenience shows just how far Audi will go to make sure their drivers are properly accommodated. Naturally, Audi Livermore shares this same mindset, so we are the best place to get an Audi A7 test drive.