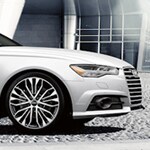 The Audi A6 has become a popular full-sized luxury sedan for its performance, handling, and outstanding engineering. But its attention to recent technology innovations really makes it stand out.
New features give the A6 the feel of a virtual cockpit. This option allows the driver to view navigation aids in a variety of ways. The road can now be seen in 3D, or through Google Earth modes. Viewing the contour of the road ahead is now an option. The 12-inch display makes sure maps are easy to see.
With a heads up display, the most vital information is projected right in front of the driver. Speed, navigation directions, and even the speed limit on the road you're driving is displayed where you do not have to take your eyes from the road. Come visit us at Audi Livermore to experience cutting edge technology on the new Audi A6. We think a test drive will convince you.